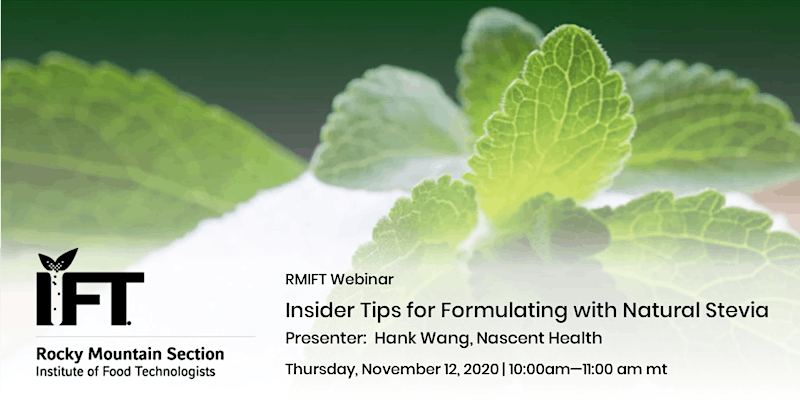 The SoPure Stevia team is taking its virtual roadshow next week to the Rocky Mountain IFT (Institute of Food Technologists)! Technical Director Hank Wang will again be presenting "Formulation Tips for Stevia" and sharing key insights on the science of developing best-tasting stevia applications — while also maximizing cost savings for food & beverage product manufacturers. One of the best parts of this year's event going virtual is that you won't have to be in Colorado to attend, and anyone can sign-up for free at the link below:
RMIFT Webinar | Insider Tips for Formulating with Natural Stevia
Date: Thursday, November 12th
Time: 10AM – 11AM MT
Location: Online Webinar
Register: Free registration at this link
We look forward to presenting to the RMIFT audience in just 1 week. In the meantime, if you're interested in a personalized consultation on your food & beverage application with stevia, reach out to contact a SoPure formulation expert today.
---
This Month in Stevia News
Sweet headlines, research findings, and news stories from around the industry on natural sweeteners and sugar reduction
Source: GoDairyFree.org
The newest line of stevia sweetened beverages from Bolthouse Farms is not only keto but also high-protein, plant-based and dairy-free.
Source: Dentistry.co.uk
New research indicates consuming sugary drinks by breastfeeding mothers may lead to poorer cognitive development for babies.
Source: Food Business News
Exciting new launches in chocolate products this season include a stevia-sweetened holiday bar, a gourmet chocolate protein bar and a no-sugar premium chocolate.
Coca-Cola is 
axing half its portfolio
 of beverage brands in a move to boost profitability and focus on its more lucrative products like Coca-Cola Zero Sugar. For one of the world's leading beverage makers, sugar reduction remains a top priority.
Published November 5th, 2020